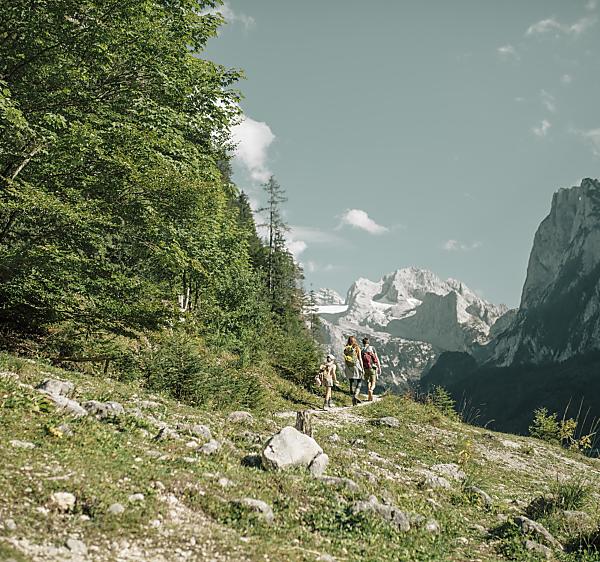 The little wonders of nature
Dachstein and surroundings: Hiking with children
Welcome to the mountain region Dachstein West in the Salzkammergut! A land of unspoiled natural wonder where animals roam free, the air smells of resin and the scent of needles and nature reveals its true beauty. The UNESCO World Cultural and Natural Heritage region Hallstatt-Dachstein is just as suitable for hiking with children as for "grown-up" tours in high alpine terrain. What many routes have in common: They start right outside our hotel door!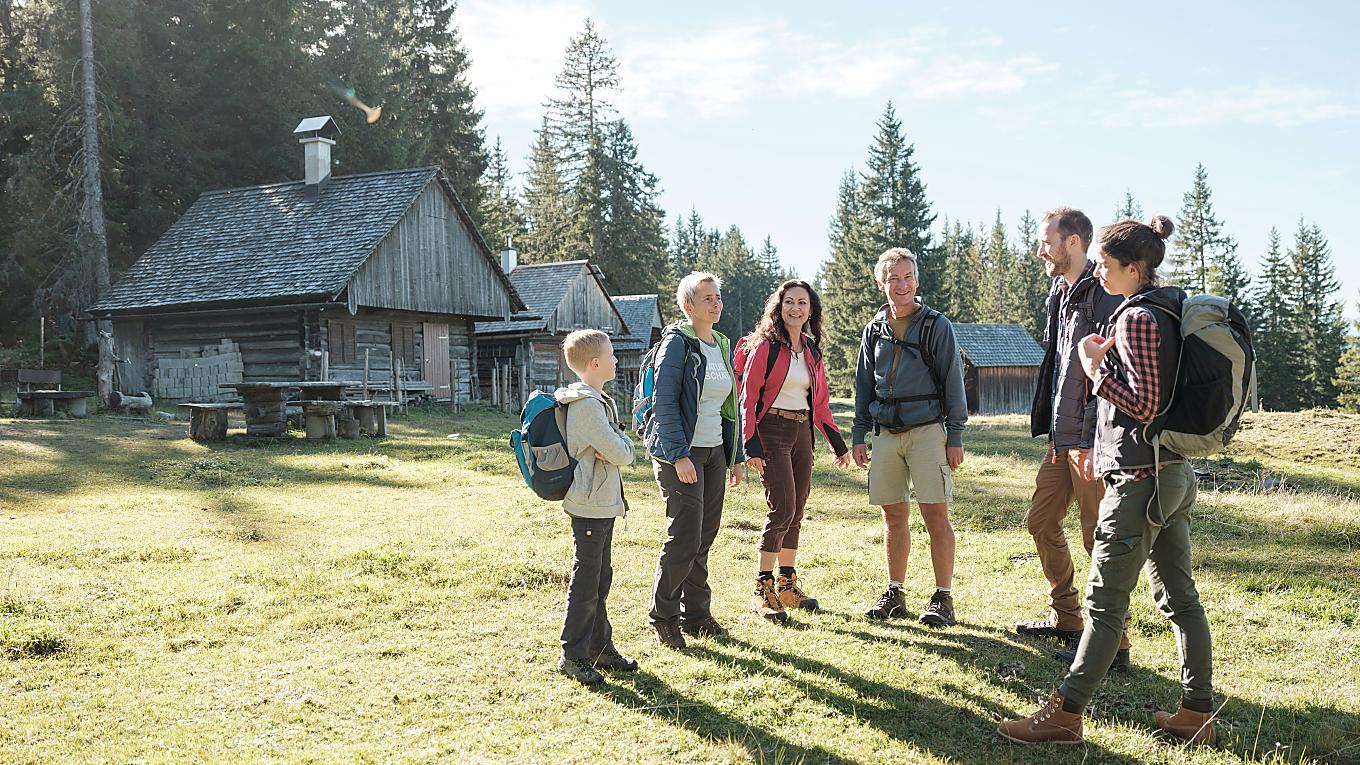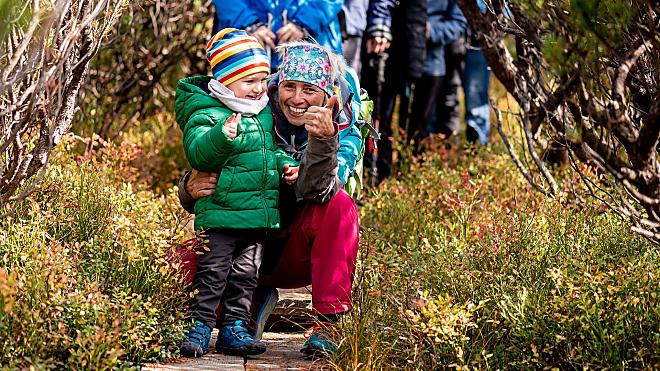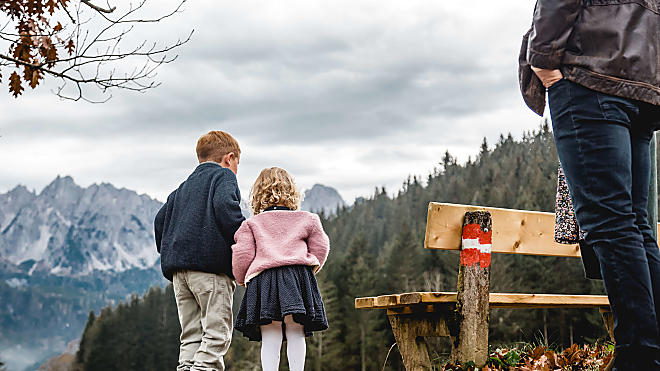 "Home is my kind of holiday."
How about a family hike to the Zwieselalm? An alpine snack awaits hardy hikers in the small but snug hut. Or a pram hike to Gosau including a visit to the playground? At the Iglmoosalm there are not only meadows and forests, but also animal guests to marvel at. One thing is certain: The Dachstein area is ideal for hiking with children.
Those who are out and about without young hikers can head to the highest mountain - the Dachstein 2.995m - with its alpine trails. The 1.5 h tour to the Löckernmoos high moor is very popular. Once you reach the top, you can gaze out the over 1,000-year-old moor lake, in which clouds, heather bushes and mountain pines are reflected. A place of power and reinvigoration!
If you like to be guided, Gosau guide Betty will take you to her favourite places. With "Gosinger slang" and a lot of warmth, she tells of the power of the mountains and the secrets of nature. Betty Jehle also offers hikes especially for children, from herb walks to donkey trekking.
Forgotten something when off on a hike on the Dachstein with children? Equipment for free rental or sale can be found...
at our reception (e.g. backpacks and baby back carriers - while stocks last)
in the "Best of Hiking" test centre in the tourist office in Gosau
at "Sport Jirka", our trusted sports shop in the village centre.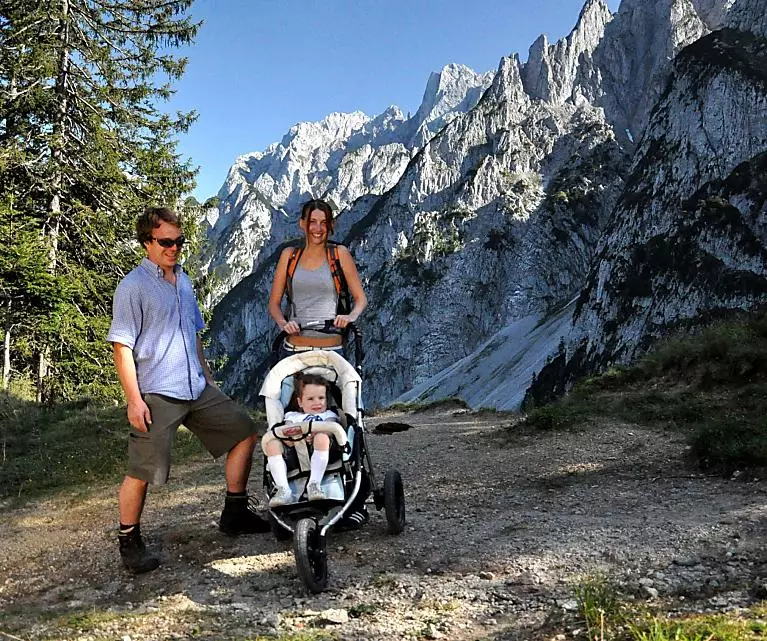 Free pushchair hire
Ideal for families with chrildren in the hiking region Dachstein West.
With the free rental pushchairs at the Zwieselalm in Gosau, the family adventure becomes an experience for young and old alike! The all-terrain off-road sports pushchairs allow you and your young ones to hike in a relaxed manner towards the Gosaunetplatzl or from hut to hut without overtaxing and tiring the little ones.

The free rental pushchairs are regularly checked, cleaned and disinfected on site
where to rent: mountain station Gosaukammbahn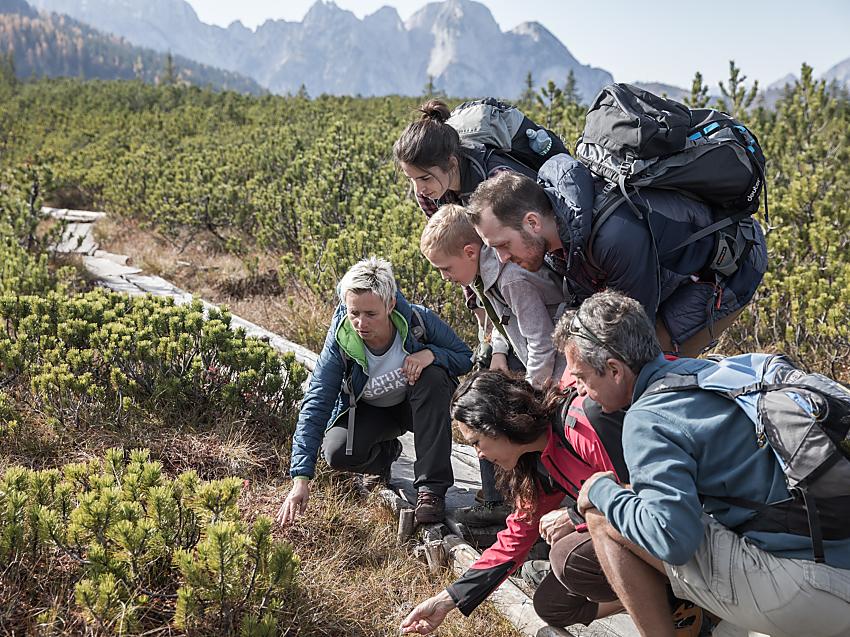 Guided hiking tours
Our hiking guide Betty accompanies you through the most beautiful regions in the Dachstein Salzkammergut. As a forest educator, she knows the area like the back of her hand and her warm manner makes every hike something special. From herbalism to handicrafts with natural materials, Betty Jehle pampers her hikers with everything a natural heart could wish for. To find the hike that's right for you, it's best to visit her website, "Hiking with Betty."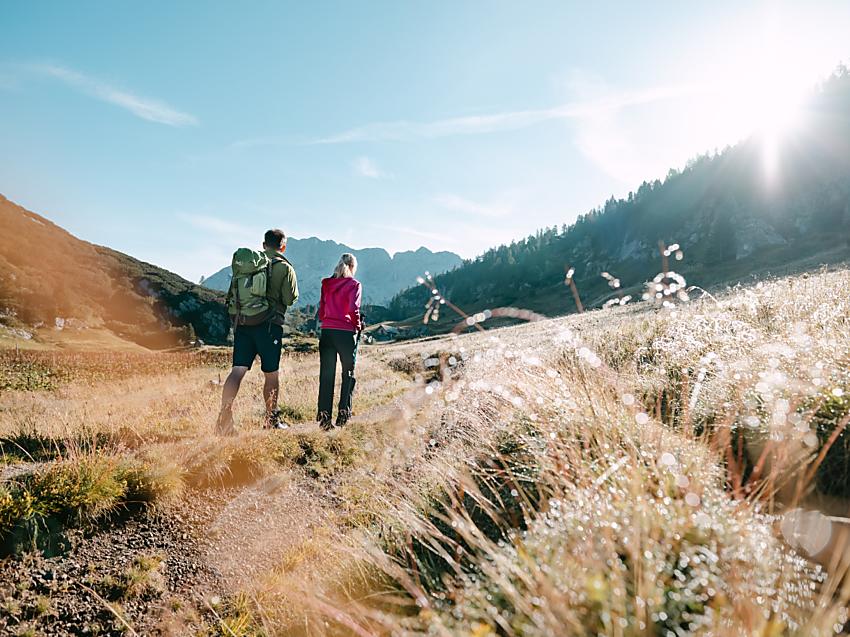 Long distance hiking trails
A day hike is already something beautiful. But only those who have experienced a multi-day hike really get to know the joys and pitfalls of hiking and can then call themselves a real hiker. Our region offers several day hikes, after which you deserve a relaxing time at the Hotel Sommerhof.
Tour around the Gosaukamm
Dachstein Glacier
SalzAlpenSteig
Berge Seen Trail
Path of the book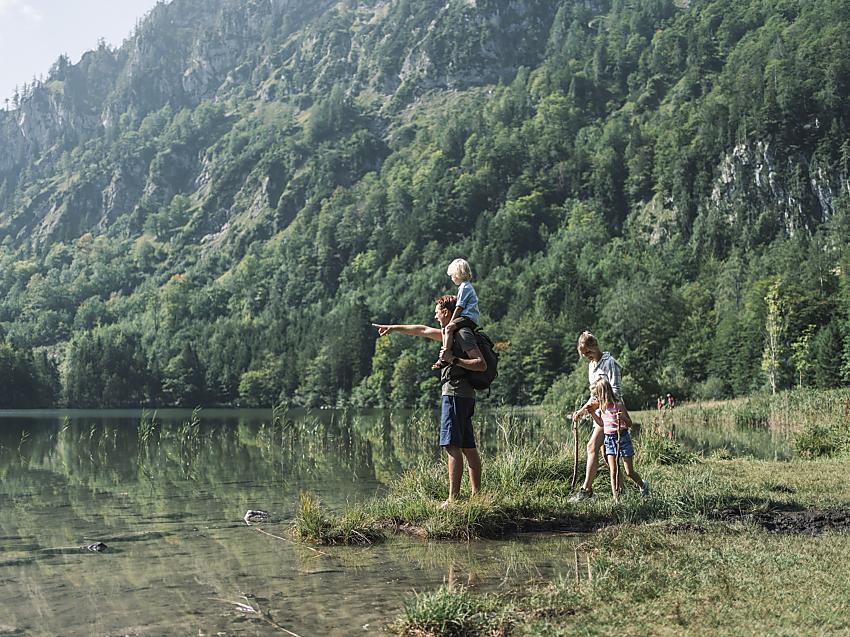 Family hiking trails
You want to show your children the beauty of the mountains while being at them? You prefer to stay in the valley and enjoy the view of the mountain landscape? It is entirely up to you, as in our region there are family hiking trails for every taste.
Gosaubach Trail
Dachstein shark
5 Fingers viewing platform
Zwieselalm: accessible with a buggy
Panorama trail
Brunos mountain world
Tour around the Lake Gosau
East bank trail at Lake Hallstatt
Ghost forest in Russbach
Mountain and fairytale trail Bad Goisern
"Ewige Wand"
Lammerklamm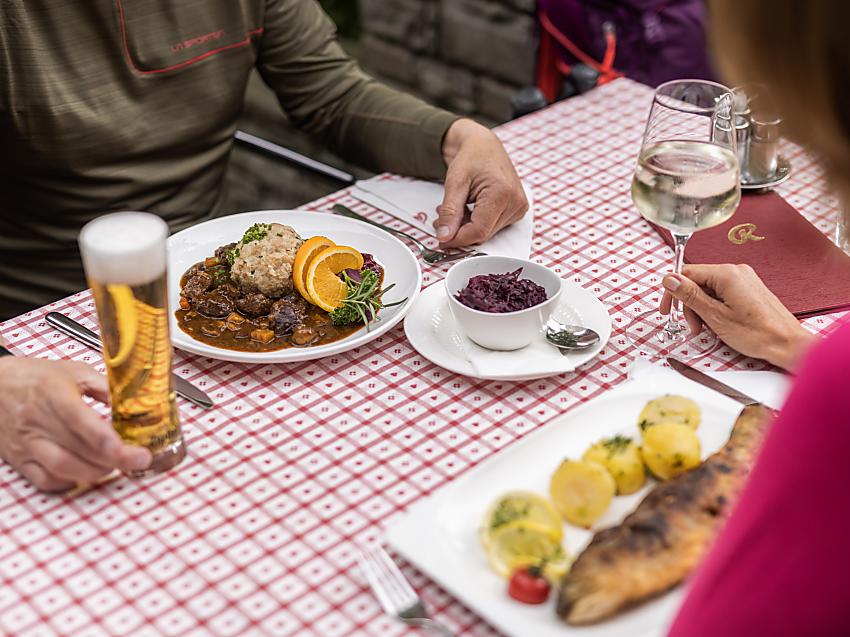 Hut hiking trails
Whether you prefer steep and short ascents or extensive and panoramic trails, alpine huts are always a beautiful hiking destination. There are fantastic alpine hiking trails for every level of difficulty. Discover regional and rustic austrian cuisine in the middle of the Salzkammergut mountain region. Our favorite mountain huts:
Zwieselalm
Goiserer Hut
Stuhlalm
Iglmoosalm
Happy place "Löckermoos" and the Badstumhütte
Upper lake Gosau and the "Hohe Holzmeisteralm"
Plankensteinalm
Rinnbergalm
Postalm
Zeishof hut
Summit hiking trails
Climbing a peak is often still considered the supreme discipline among hikes. After all, the path to the summit cross still leads to the highest points with the most breathtaking views. Are you sporty and fit and looking forward to the challenge? Enjoy our recommendations around the Hotel Sommerhof:
Native American's head under the summit cross of "Kalmberg" – highest point: 1.723m
Donnerkogel – highest point: 2.012m
Dachstein summit – highest point: 2.934 m
Plassen – highest point: 1.911m
Predigstuhl – highest point: 1.613m